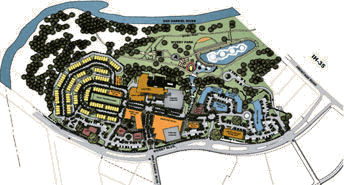 Novak Brothers Featured in Community Impact Article on Economic Growth in Central Texas
GEORGETOWN-BASED DEVELOPMENT GROUP TURNS DIRT ON LUXURY COMMUNITY.
Georgetown, Texas – Novak Brothers will welcome the Georgetown Chamber of Commerce and local key decision makers as they celebrate the groundbreaking of The Brownstone at The Summit. The highly anticipated urban village community begins construction on Friday, June 24 in Georgetown's Rivery Park.
"We could not be more excited to finally see shovels in the ground," says Co-founder Jeff Novak. "Our team is confident that this entire property and overall concept will change the way people live, work and play here in Georgetown."
The Brownstone will feature 154 brownstone/flatsas part of The Summit at Rivery Park. Set on 32 acres overlooking San Gabriel River, The Summit offers a unique combination of traditional, but chic, condominium residences interlaced with boutique shops, office space, a hotel and conference center, popular eateries and retail services.
The mixed-use development offers modern conveniences while playing off old-world design and aesthetics. Reminiscent of classic 19th century row houses of Chicago or New York, yet designed in native Texas materials and styling, The Brownstone offers a unique alternative to traditional residential choices.
Prospective buyers are encouraged to visit the newly completed website at TexasBrownstones.com. The site offers innovative features, including a custom floorplan builder, an interactive tour of Georgetown's unique trail system, and a 360-degree tour that provides viewers with the experience of walking on the property.